Meet your friendly local book/barkeep! What can I get for you today?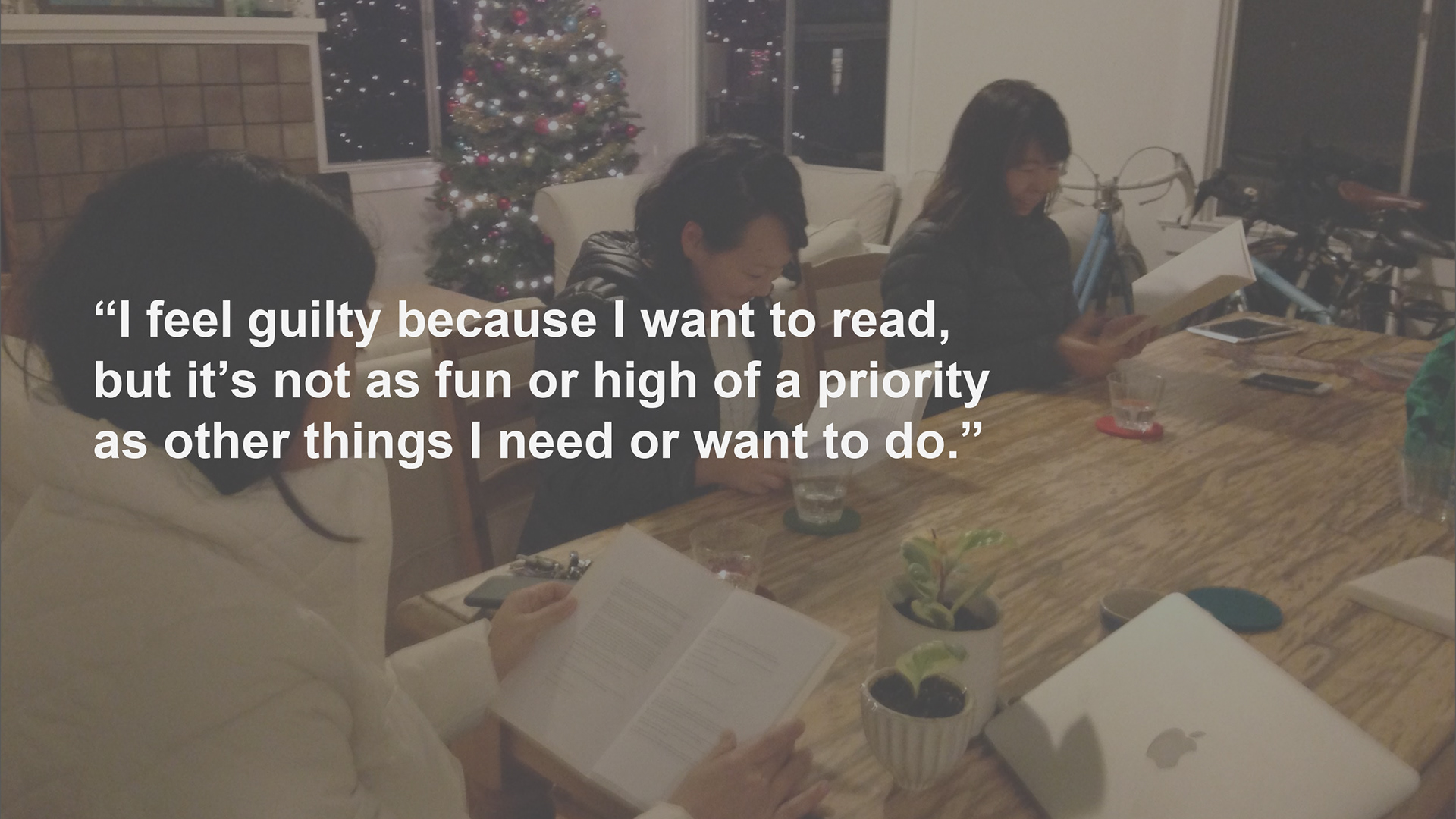 After conducting dozens of interviews and visiting a wide range of local bookstores, these are some of the key insights that our team derived;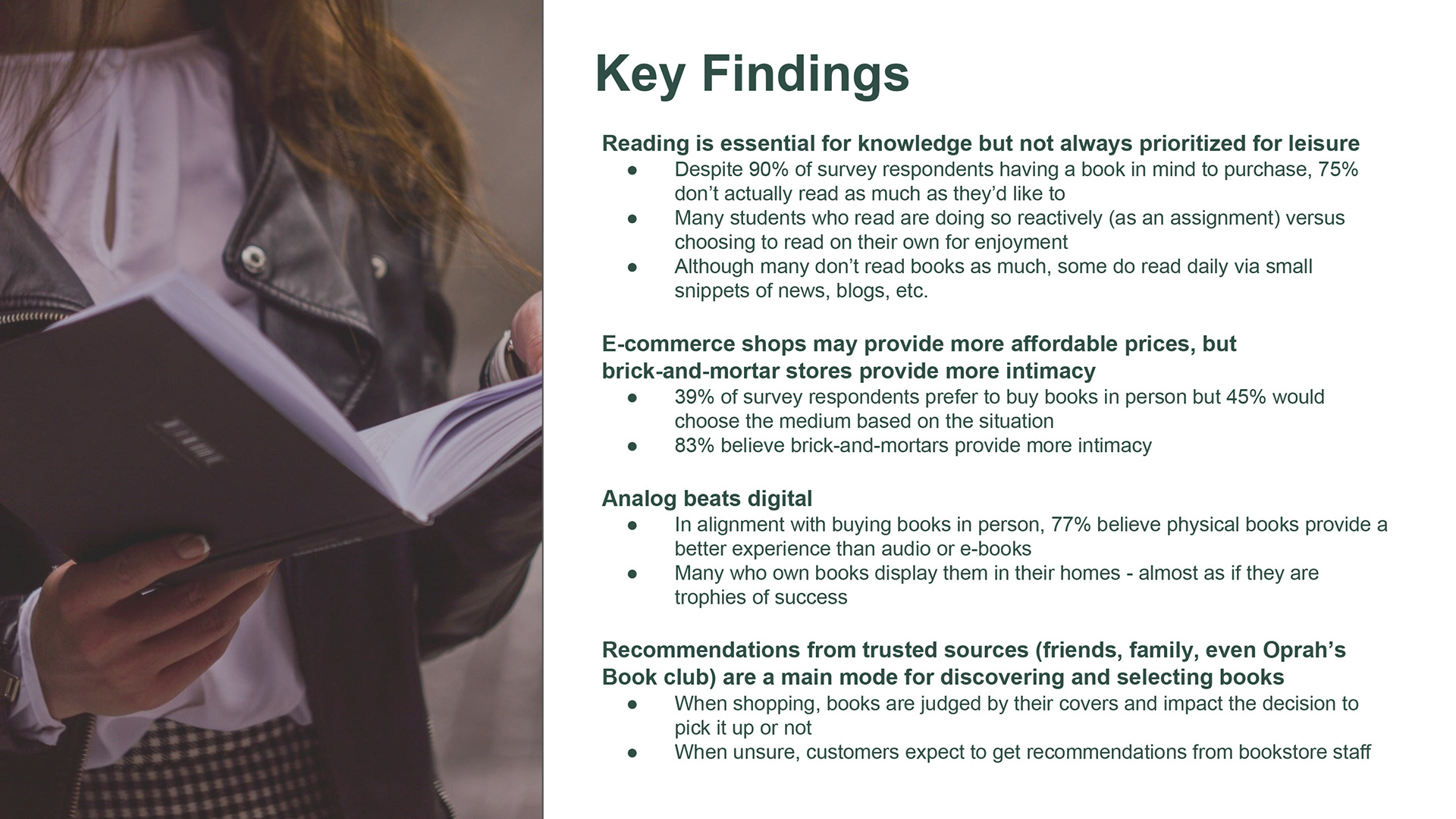 Below is a journey map that represents the "status quo" of the present experience when visiting a brick and mortar bookstore. Along the top are the 5 key 'stages' of the book-buying experience, from planning through the completion of the book. Along the bottom are detailed points of what the customer is doing, sensing, thinking, and feeling at these stages. While our team considered our bookstore popup as a wholistic experience, special focus was placed into ensuring that individuals would not simply give up the opportunity of reading at our shop because they had something more interesting to do in that moment.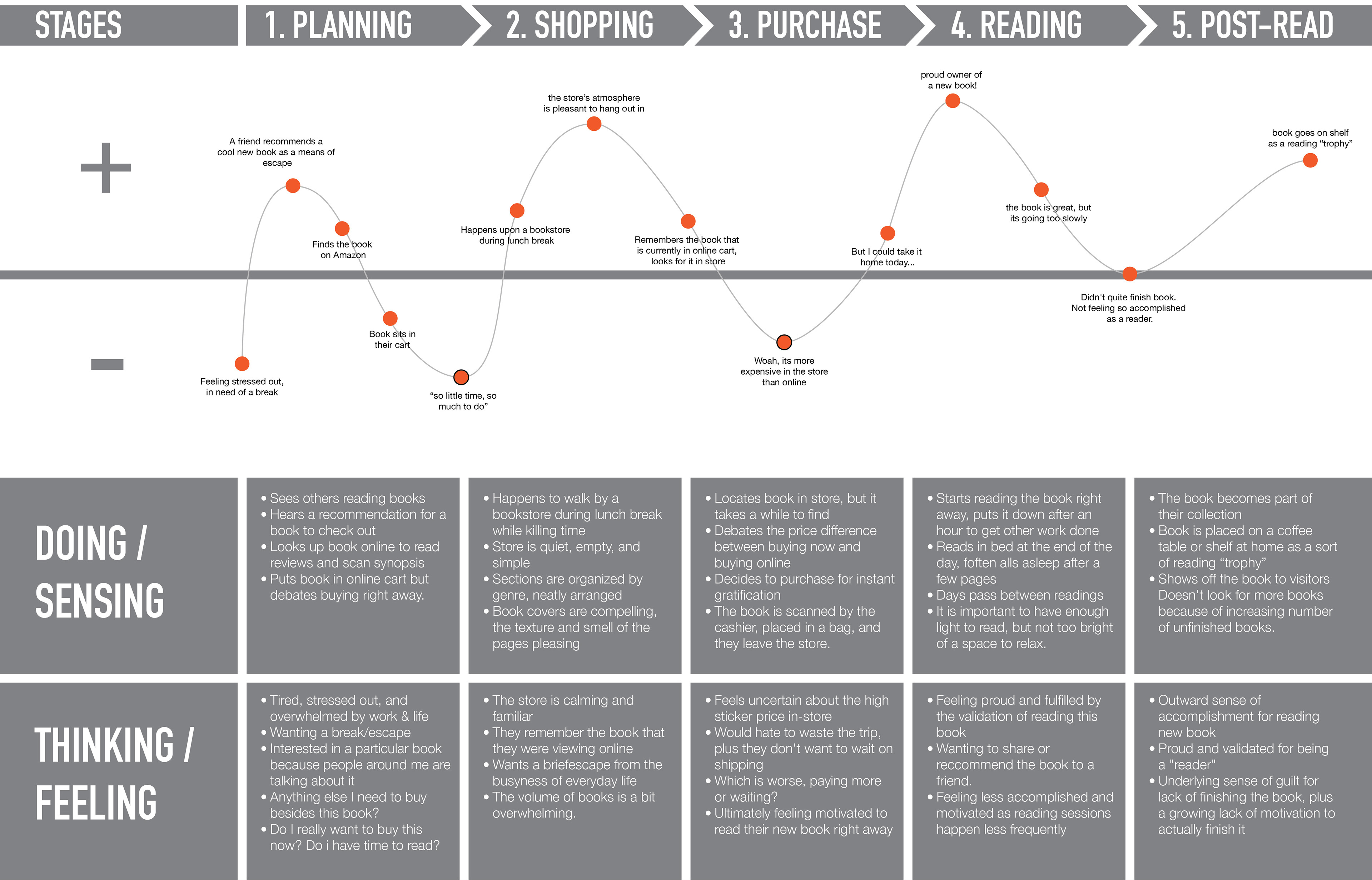 What better way to tempt a passerby into reading a book than by offering them a drink? This was the first rough sketch of the book/bar, which we were then able to bring to life beyond even our own expectations. Several other formats of bookstore popups were considered, including a private airport reading nook and a book/foodtruck, yet in the end the charm and  familiarity of the bar atmosphere resonated the most with our interviewees.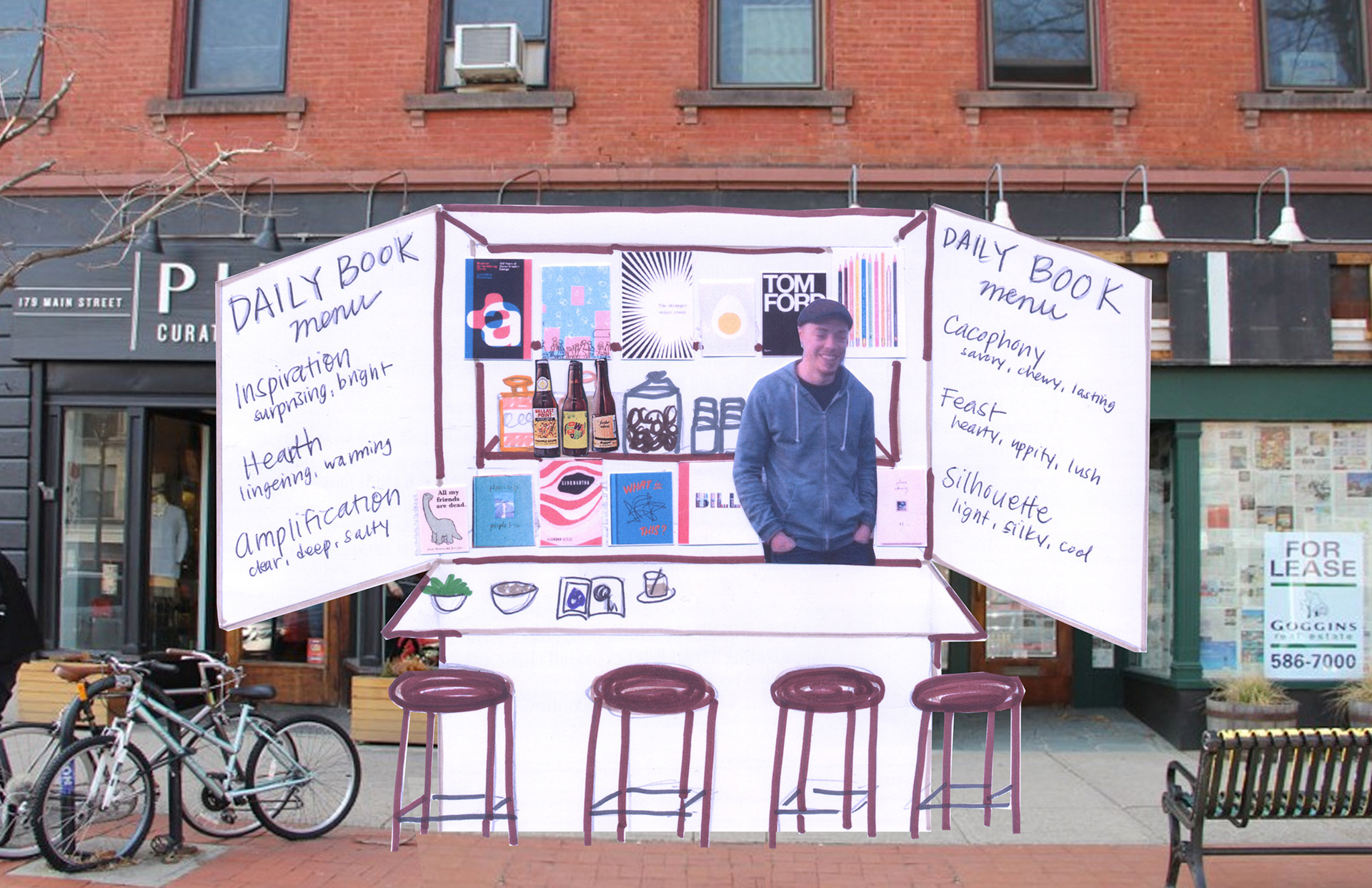 Below is a prototype of a storyboard that I designed for the "Top Shelf Books" experience. The illustrations are intended to quickly catch the emptional highs and lows of the experience, while the clock at the bottom estimates the cumulative time passed at each phase. The beautiful thing about storyboarding with post-it notes is that you don't have to be too 'precious' with any one concept, and any individual piece can easily be rearranged or swapped out.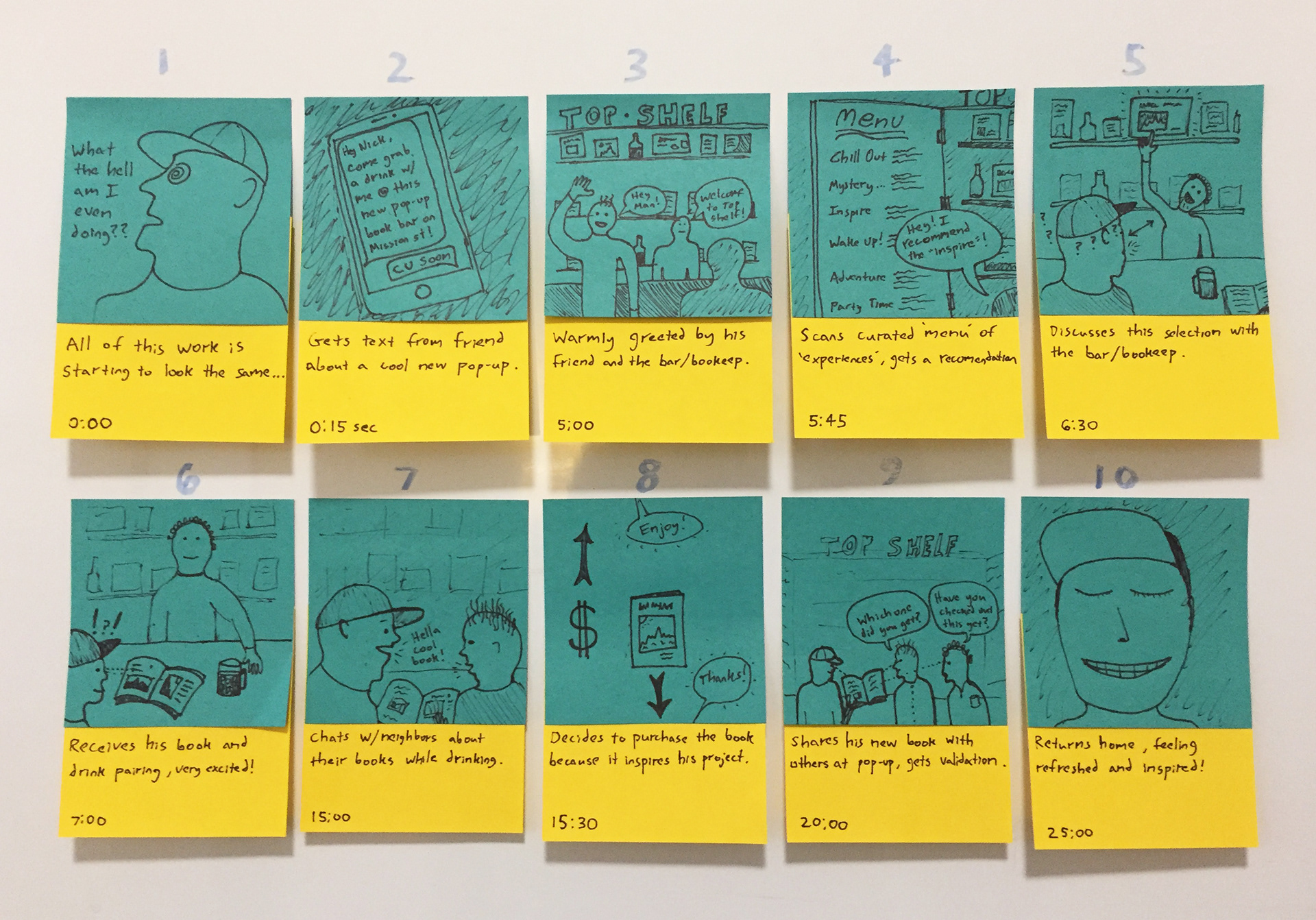 Perhaps the most rewarding part of this project was the ability to push ourselves beyond the traditional elements of strategy and design by actually BUILDING the pop-up ourselves. I worked closely with my teammate Justin to design and build a structure that was aesthetically pleasing, durable, and cost-conscious. This was definitely a learning process with plenty of errors along the way, but the results made it all worthwhile.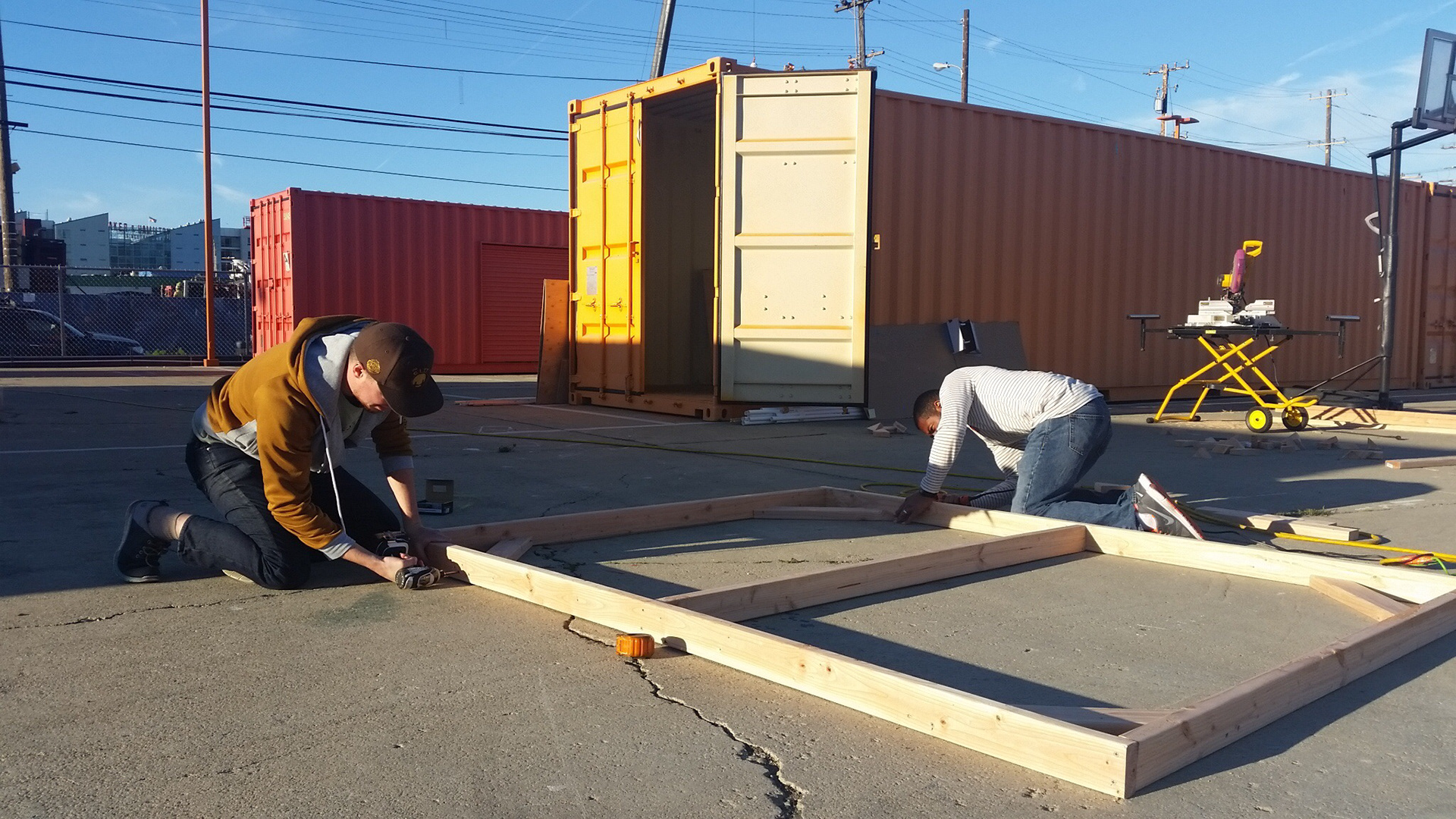 One practical tool for choosing the overall aesthetic and feel of a space is through the use of 'mood boards'. This is an early iteration of a mood board that I designed, emphasizing potential choices for color palette, materials, and general atmosphere. In the end, we opted for a more cozy and warm atmosphere, which paired well with the bar format.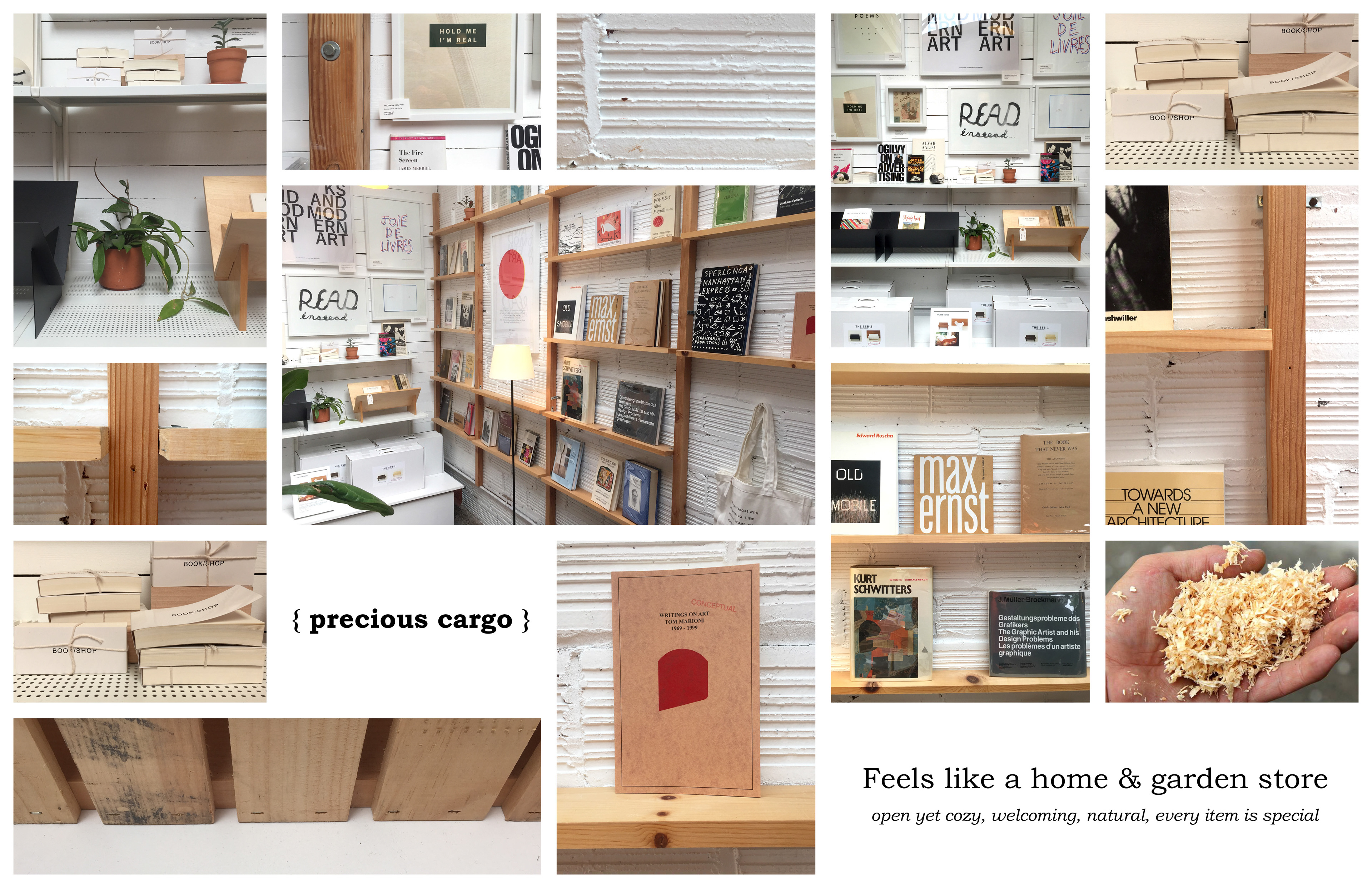 Once our concept was more thoroughly developed, we were able to test it with external participants through the use of a 'micro pilot' (basically a low-fidelity practice run). The goal of a micro pilot is to validate or disprove key assumptions that still remain of your concept by allowing yourself to be vulnerable to honest external feedback. This was an extremely helpful step in fine-tuning our pop-up and creating parity throughout the experience before we completed key elements of our service design, branding, and interior details.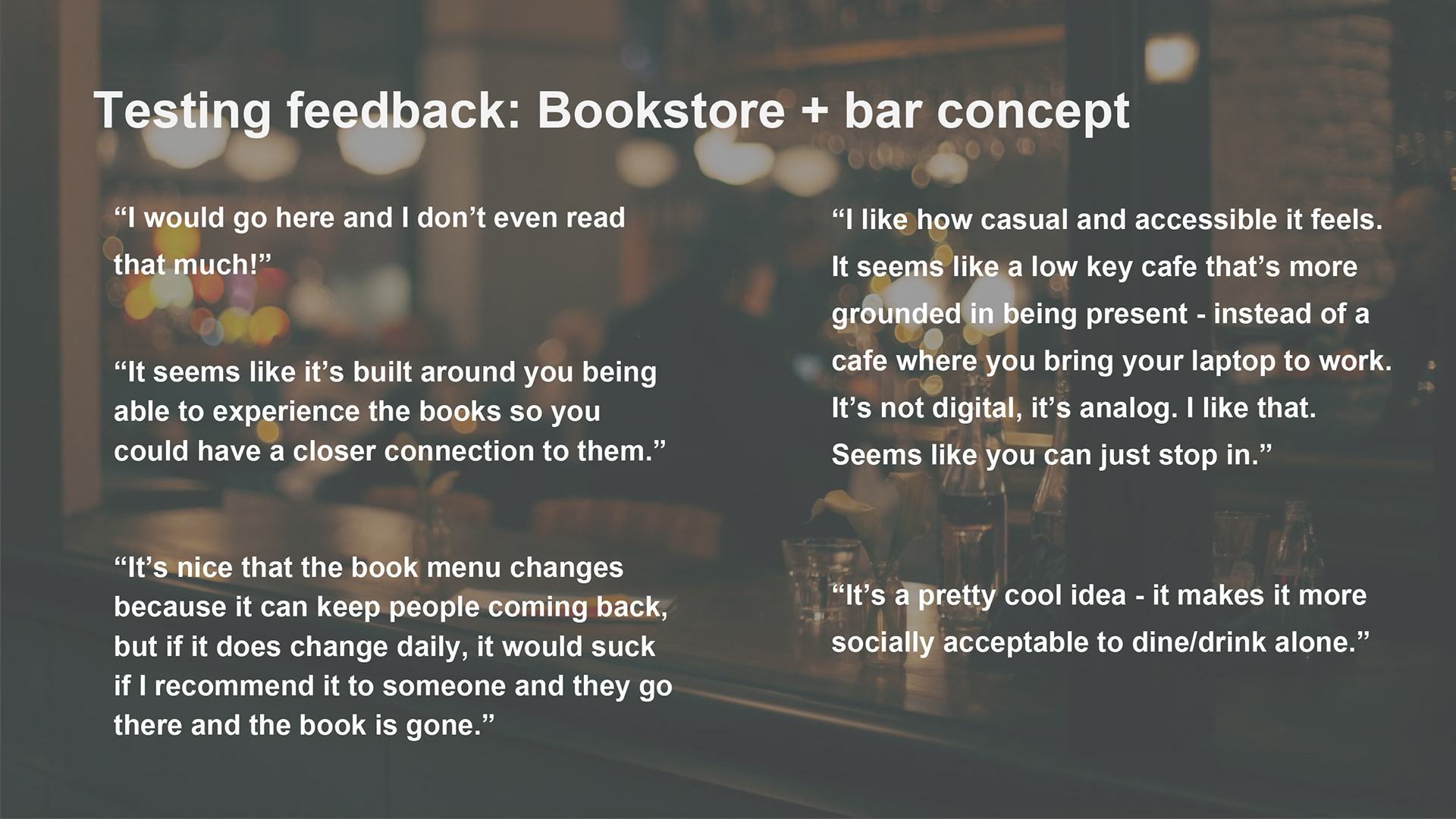 Below is the "what if" journey map for Top Shelf Books. When compared to the 'status quo' journey, you will notice that there are many key improvements of the book-buying experience that this offers. Selecting a book and finding time to read has shifted from a sense of guilt and responsibility ("I should read more but I can never find the time...") to a sense of relaxation and accomplishment ("that was a great experience, I'll need to show my friends!").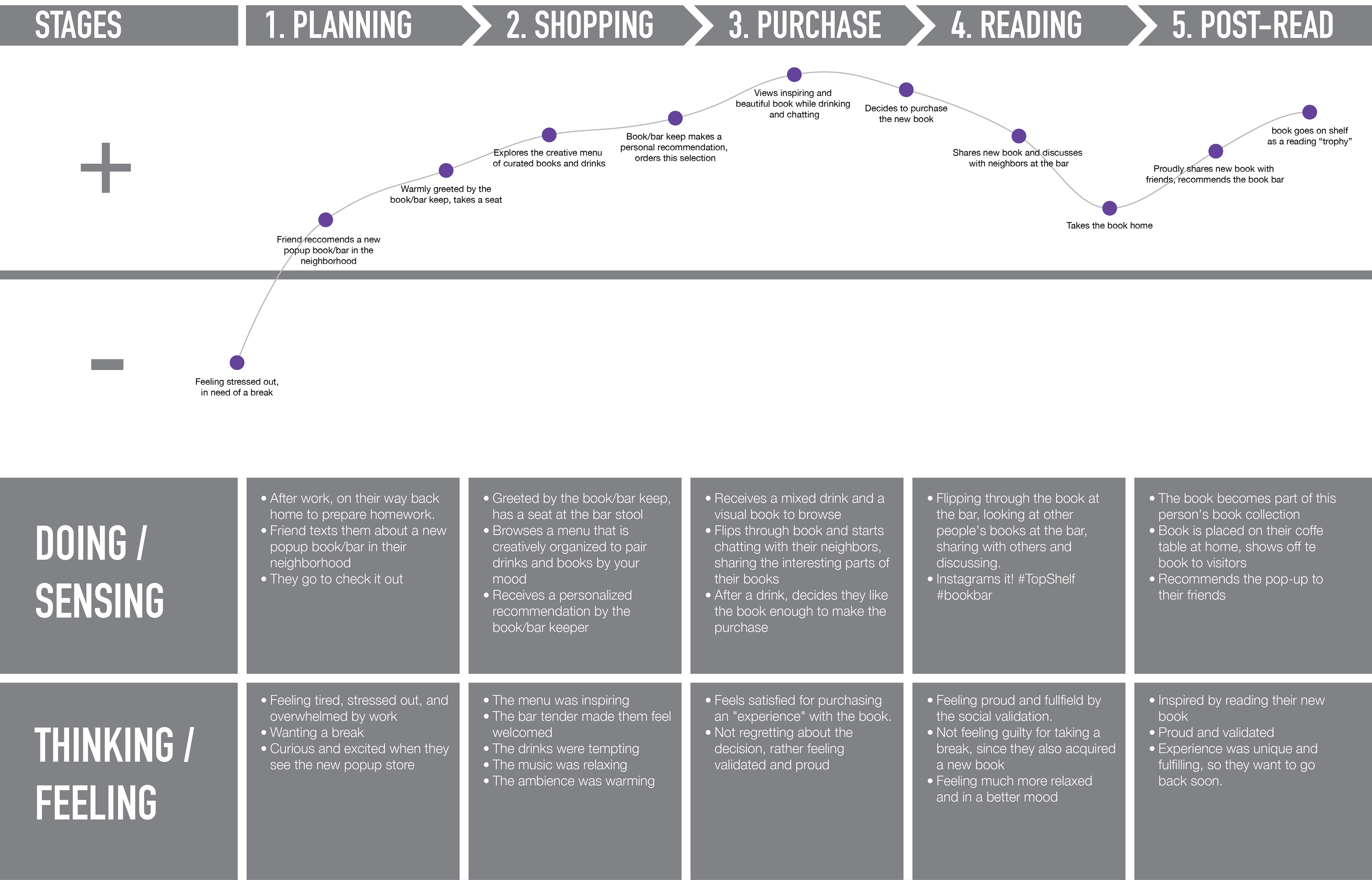 Below is one of Top Shelf's five individually curated drink & short story pairings. This particular pairing experience is called "The Scent of Royalty", which matches the story "Cleopatra's Heirs" with a mixed gin drink. Each pairing sits on its own shelf on the back wall, along with some selected items that subtly refer to key elements within the plot of the short story, such as a model boat or a framed portrait. Key ingredients of the drinks are often directly referenced in the stories as well, allowing the reader to emerge themselves in the reading journey.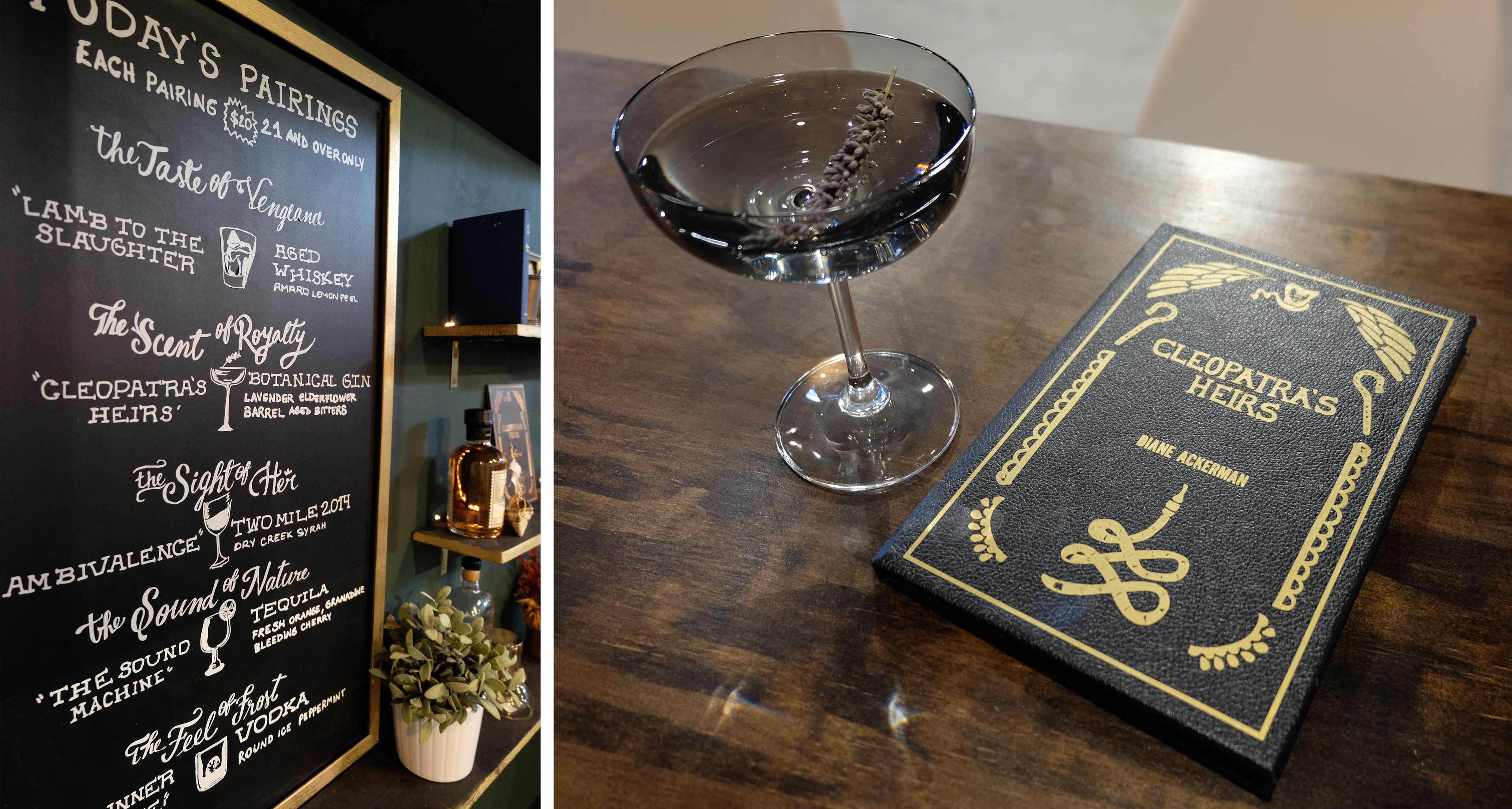 Finally, after months of intense brainstorming, designing, and building, I had the personal honor of serving the guest 'judges' their drinks and stories infront of a crowd of curious fans. The experience was extremely well received, plus I learned how to wear a bowtie.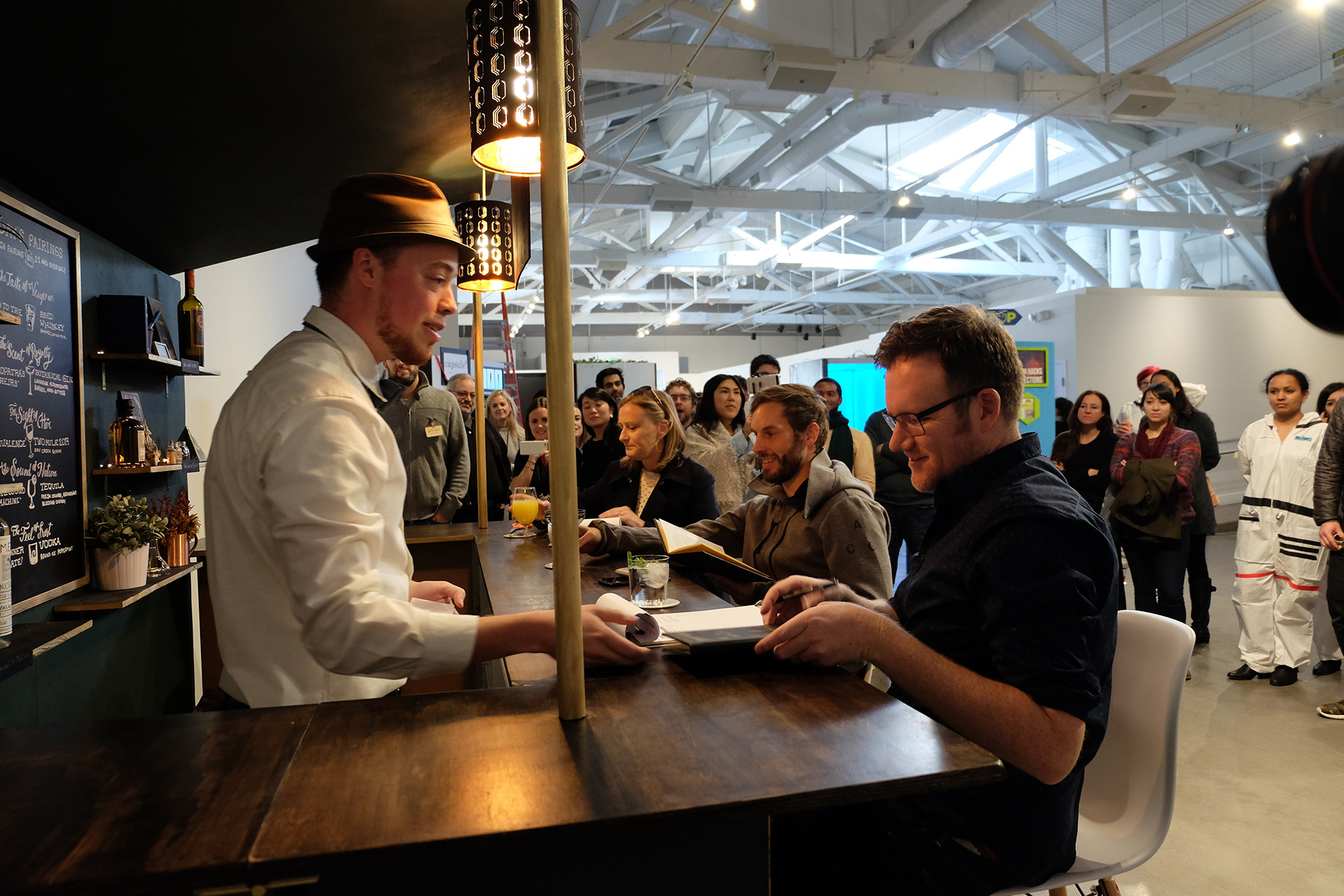 Some overall reflections on this process;