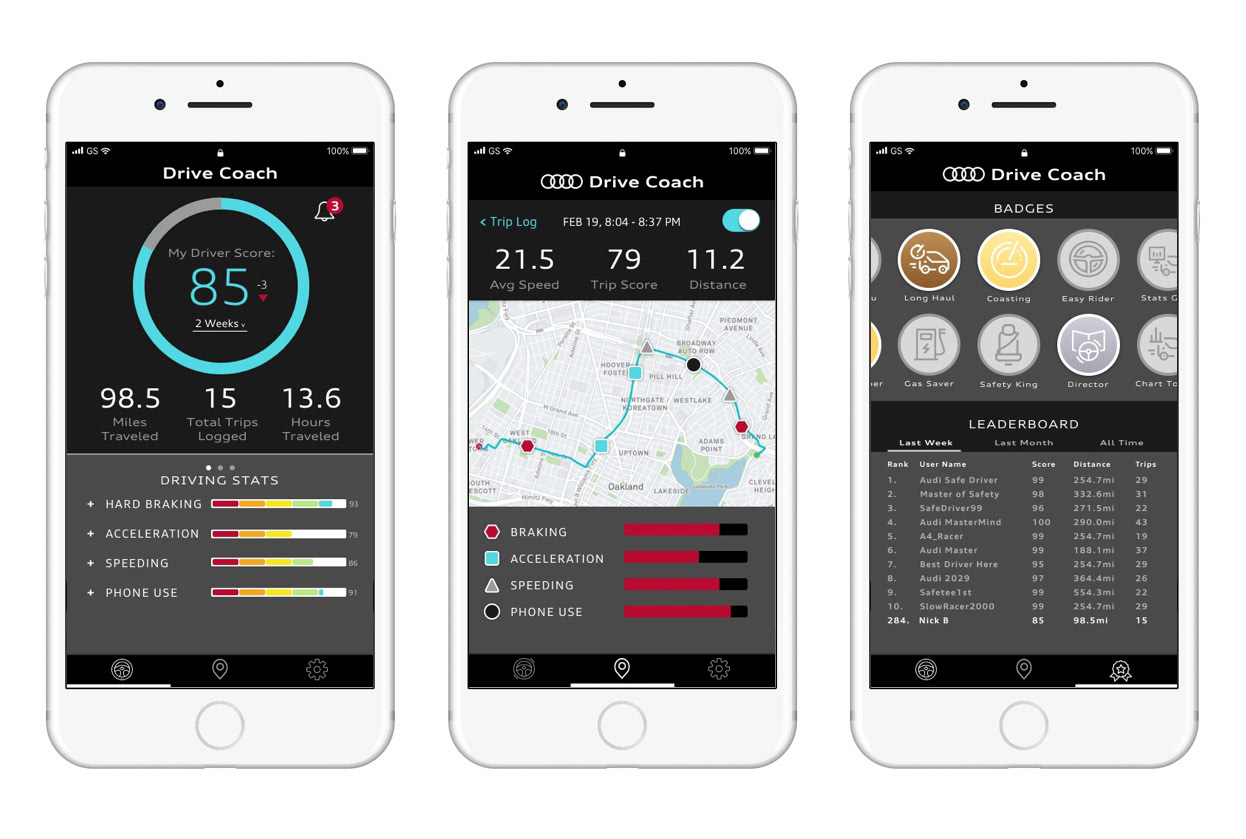 By utilizing existing smartphone components such as GPS tracking and the accelerometer, the user's mobile device will collect real-time data and process it using a 3rd party API in order to provide individualized feedback and tips on driving performance. 
The app does not need an OBD plug-in device, rather it uses real-time data captured by your smartphone. Users will receive a 'Driver Score' which reflects their overall performance; this driver score has the potential to be applied in external use cases such as rewards programs and usage-based insurance.
- View your trip history and identify exactly where driving incidents occurred, such as speeding and hard braking
- Compare your 'driving score' against friends or other drivers on the leaderboard
- Unlock badges for accomplishing goals such as obeying the speed limit or avoiding phone usage while driving
- Access data visualizations of how your driving performance has changed over time 
- Receive personalized tips on how to improve your driving score, based on your driving data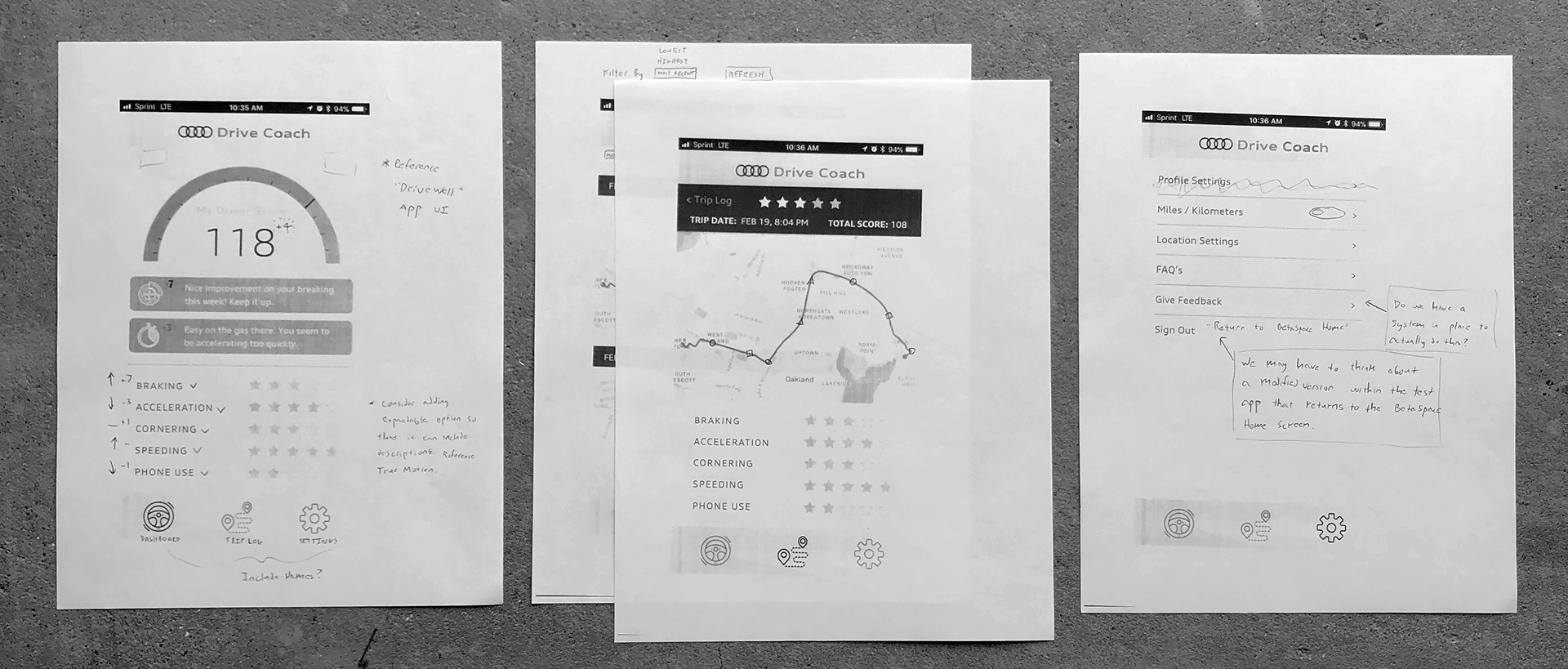 KEY FINDINGS FROM INITIAL CUSTOMER FEEDBACK
- New potential use cases were identified, including fleet management, insurance providers, and training student drivers.
- Most customers are unwilling to pay for apps, with the exception of media subscriptions, so it would have to be included.
- Several drivers who were especially interested in vehicle performance desired even more detailed access to their data.
- There's an opportunity to incentivize safer driving with better MPG, cheaper insurance, or rewards points.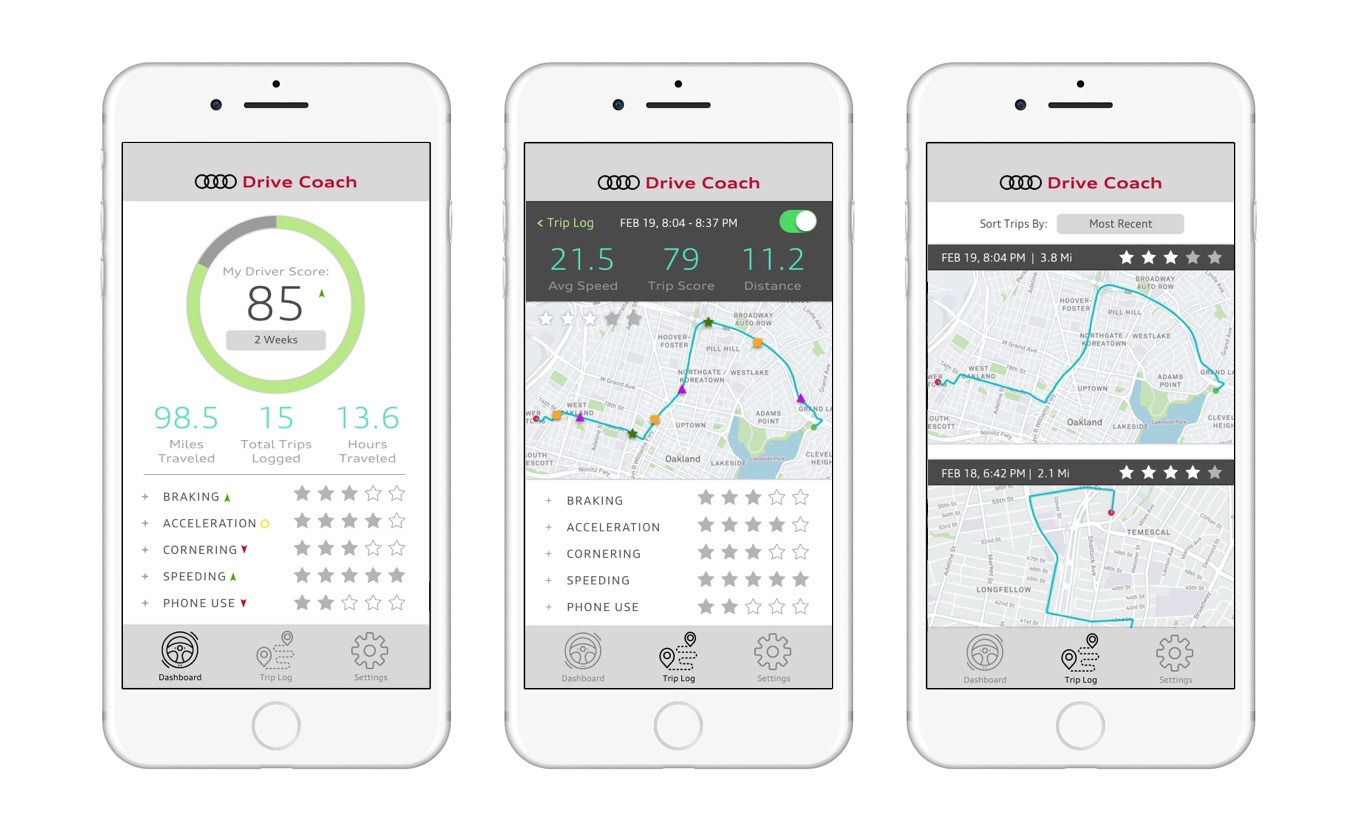 CUSTOMER FEEDBACK, ROUND 2 KEY FINDINGS
- The star rating system did not provide enough clarity for users. Several other variants were A/B tested before the final design.
- Several users requested the option for instant audio feedback while driving.
- In addition to accessing the trip log, users wanted to identify exactly where incidents occurred during their trip.
- A darker palette for the UI is more legible, especially when reading in the vehicle or at night.
- While the app's core function was valued, it did not have features incentivized regular interaction. Therefore, functions including reward badges, push notifications, and the leaderboard were implemented to foster regular engagement.