A quantitative study of over 3,000 respondents across 3 key markets was conducted in order to identify and validate several key opportunities where our product could enhance the customer experience of aftermarket sales. (survey results are private)

While Carfax is considered the most direct competitor due to their name recognition and deep industry partnerships, we also explored more non-traditional competitors that are taking a more wholistic approach to redesigning the customer experience of buying and selling used cars. Audi's strategic advantage is our primary access to vehicle data, paired with our company's domain expertise of our own product (as opposed to offering a generic, one-size-fits-all approach to processing vehicle data). 

Before deep-diving into solutions for improving the experience of researching, buying and selling of a used vehicle, it was critical to gain a deeper understanding of the 'status quo' of this process. Our team decided to focus on the 'low hanging fruit' use case of "peer-to-peer" used car sales (i.e. Craigslist) - almost everyone can understand how frustrating and outdated this process currently feels. After mapping out the existing touch points on a customer journey map, I facilitated a brainstorming session with the core team in order to identify where our product could strategically add value throughout the customer journey.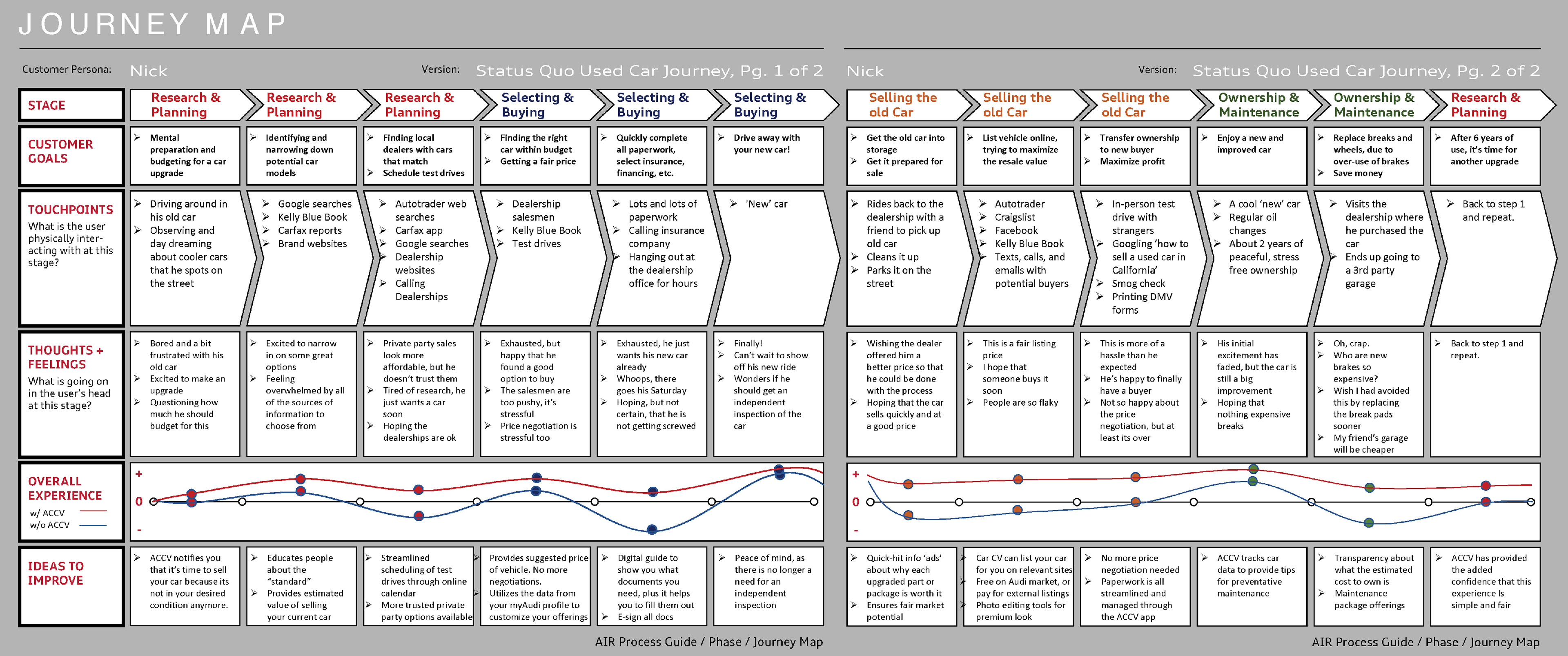 ROUGH DRAFT & FIRST PROTOTYPE
Once our team had aligned on core functions to be included in the product vision, I sketched out several concepts for the customer-facing app, eventually working towards a more refined digital click-through prototype. I utilized assets and a color palette from Audi's UI kit in order to inform the prototype design in Sketch.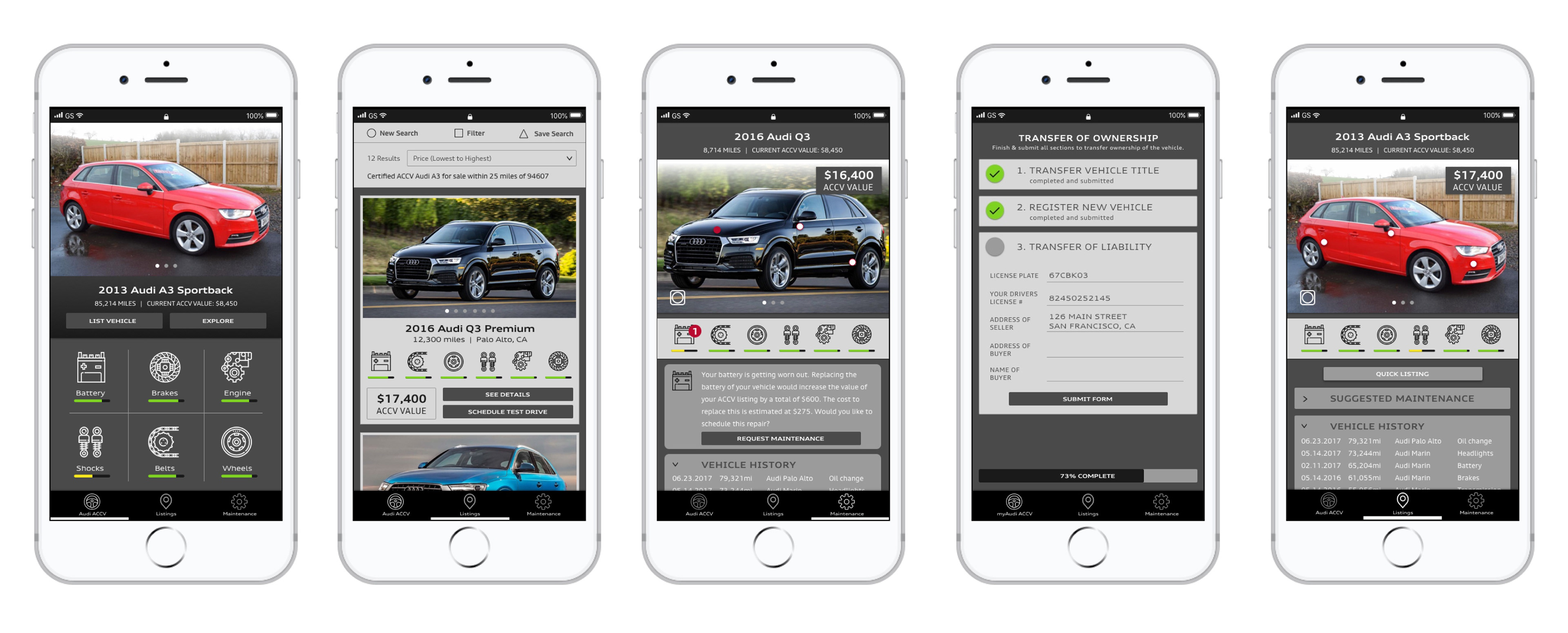 CONDUCTING QUALITATIVE RESEARCH
With the first prototype completed, it was time to gain a deeper qualitative understanding of the customer journey, identify new potential opportunities, and receive feedback on the app's design and functionality. I created a research screener as well as a 90-minute interview guide, which were then passed along to a local design agency who assisted with recruiting and research documentation. The following information summarizes our research goals and our process of synthesizing this research.

- The current experience of buying a used car relies heavily on subjectivity rather than facts; customers will trust and value a product that provides unbiased and transparent data rather than personal opinions. 
- Buyers are willing to pay a premium for vehicles that have maintained in top condition, and car owners are open to tracking and storing their vehicle's data if it can help them sell at a higher value. 
- While the experience of buying a car should feel exciting and empowering, people often end up feeling overwhelmed and uncertain about their decision. There is an opportunity to provide our customer with a greater sense of control and peace of mind. 

KEY RESEARCH FINDINGS
​​​​​​​
After synthesis of our qualitative research, 9 key findings were identified that helped to inform later iterations of the product vision (customer quotes and specific examples are redacted for privacy). Additionally, usability feedback was collected as research participants clicked through the InVision app prototype.  

An overall finding from the initial round of qualitative research was that the app was trying to accomplish too many things at once, however customers are primarily interested in two distinct sets of needs; maintenance & diagnostics, and secondly buying & selling. Therefore in this second iteration of the app, the Advanced Car CV was split into two seperate products, "ACCV" and "Test Drive", which share access the same back-end data and login credentials.
- Receive an overall 'ACCV Score' that rates the current condition of your vehicle using real-time vehicle data
- Receive push notifications when your vehicle needs servicing, so that you can catch the problem before it worsens
- Sell your vehicle directly through the app, streamlining and consolidating all of the legal documentation in one central location
- Manage the scheduling of vehicle maintenance directly through the app and communicate directly with your mechanic